To end it with the reality
I wrote a bit about the perception of reality, stating that it's highly subjective. I promised to get back to it. For me, what is at stake is critical for human societies.
Recognising that there is no absolute reality and that the truth can never be fully recognised means so much to humans. It means you cannot compare your vision of reality. Your point of view is your source of truth but doesn't apply to anybody else.
This realisation means that judging, arguing and controlling are totally pointless. People should be allowed to do whatever they wish in total liberty as long as it doesn't limit anybody else's.
I have high expectations for the societal impact of VR. I hope that it will change the world. When people grow up with the idea that reality can be falsified, transformed and recreated they will realise that what they consider real is only the result of their perception. This can only lead to more empathy and less judgemental attitudes.
Today is the last day of this series of experimentations about VR and we're going to completely get rid of the concept of reality as we think of it. Like yesterday the VR scene is static. Well, not completely as it is a video (make sure you're on a wifi network or it may cost you money). On iOS you may need to pin the VR web page to your homescreen to be able to play the video. I need your help to make it work.
This is how to use it. First open the VR scene on your phone and put it in VR headsets. Quickly search for the centre of the fish tank. Look around but make sure to keep your field of view within the limit of the aquarium. Now feel yourself floating in the water. Maybe you are a fish. Or maybe you're just swimming in there, watching at the fishes. Feel this as an absolute and unquestionable reality. Then, look at the opposite direction. You'll see the illusionist, myself, holding a 360 camera in the concave side of a fish tank. Realise that what you think was real was actually a mere illusion. You now see the trick that made it possible. Look at me and feel the reality of this scene. Now take off your VR headset. What you've just seen was yet another false reality living in a virtual world accessible through a specific device. Observe the world around you and recognise it as a reality. Now, realise that there is another layer. What you see is yet another illusion. Feel the truth through this reality, look for it. If you recognise that what you see is just the product of your own thoughts then the exercise is successful. You can go out now and explore this world while keeping a sense of empathy and respect for other people's reality.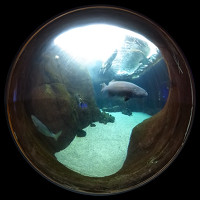 Slide your phone on a Google cardboard and click the image to experience the VR view.